Teaching English to Kids
Teaching English to kids is a major concern for parents. Parents try to enroll their kids in English language institutes as early as possible. Teaching English to children is very sensitive. Because of the importance of this issue, here are some tips that should be taken into consideration by parents and teachers of children's English. Teachers need to know that their pupils will always face some problems during the process learning so they should be able to work a motivator close to their students. It is suggested to read the article "The main problems faced by an English language learner".
Appropriate age for teaching English to Kids
Some parents have been designing various programs for continuous education since their child was not yet born. The design and start of training for kids should be tailored to the personality, talents and age of the kid. It is a big mistake to teach English from an age when the kid is not yet a native speaker.
Some kids cannot pronounce certain letters (such as "R") until a certain age, or cannot spell some Persian words. Parents of these kids should not consider these disabilities as indifferent to their kid's speech and should not be indifferent to them.
Some psychologists' views you might have not heard yet
In addition, psychologists recommend that your kid should be able to read and write in Farsi (native). For these psychologists, the child needs to have a basic knowledge of the mother tongue, the rules of sentence construction and the letters of the Persian alphabet in order to understand the basic concepts and rules of English. This skill can reach a desirable level by the age of 6. It also will provide the child with the necessary English language skills.
Different opinions of psychologists on the age rage of 1 and 2 reach a common point. According to psychologists, second language instruction can be started at this age, but it should be noted that if a 5-year-old kid is still unable to speak Farsi, he or she is likely to have a physical or mental problem and must be treated, so it must be treated. All kids over the age of 5 are not ready to learn English; it is the health and power of the kid's speech that determines the timing of a second language instruction..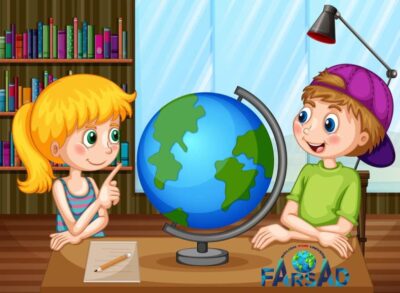 Kids' classroom features and tips that teachers need to know
What is accepted by psychologists is the indirect education of kids. In other words, any education should be provided indirectly in the form of games, entertainment to kids. For this reason, English language classes for kids should be fun as when they get interested, teaching and learning can happen spontaneously. Otherwise the child will not learn.
Other features of kids' English language classes include children's decoration. kids are more responsive to colors. So try to design and execute classroom decorations to suit your child's moods and interests. Coordinating the environment with educational activities facilitates learning as much as possible.
You also need to invest in creativity and ingenuity to increase the variety of ways English children can be taught. Offer kids educational games along with games and entertainment.
Below are three creative ways to create a classroom that fits your child's needs to become more aware of ideas for more creative work.
Organize a fun camp during your classes!
Organize a training camp program. A one-day camp can increase children's mental performance. Don't stop training in this camp either. You can start training from the moment you start your journey. This camp is very practical and practical for teaching the components of nature and colors.
Makes crafts
To teach English to children, you can use classroom crafts. For example, you can use appropriate handicrafts to teach animals, clothing, and body parts lessons. Crafts should be simple but attractive.
Play performance
Other attractive ways of teaching English to children include 'Performance' as a popular way of teaching children. You can help design and play performance to teach some conversations, such as greetings, introducing yourself and friends, appearance and similar topics.
Use the media
Take advantage of video media, animations, and child-friendly movies in the classroom. Children at this age are very fond of watching television and cartoons. So try to teach some things to kids by watching cartoons in English. This site "eslkidstuff.com" can provide you with some of the materials. As a teacher what you always need is creativity, how to prepare yourself for your class. Here is another article "The creative methods of teaching the English language" giving you some ideas how to be more creative in class.
The role of parents at home and what they need to know
Teaching English to children is not limited to classes. Parents should also provide their children with home-based exercise and recreation, along with fun and entertaining ways. Parents must be aware of their child's learning and development process so that they can practice what they have learned at home.
Of course, it is important that the method of teaching English in classroom is not questioned by parents of those children at home. Parents who, with their knowledge of English, are trying to instill their own way into their child. Unfortunately, it is this child who falls between teacher and parent training.
Therefore, it is best to consult with your children 's teacher to find out about the teaching process and how to properly practice English at home and to follow the right path. Your way of practicing and repeating with your child should be complementary to that of his teacher, not an infringer. Thus, trying to align with the teacher will benefit your child and make him or her better.
 The abstract of the Article:
This article discusses important points for teaching English to children as well as what parents and educators should know.
For further studies:
1- Four tips for learning English Language Grammar
2- Four English tips that teachers haven't told you !!!
3- Seven tips for learning a new language from the perspective of TED translators