Learn English through story
We are going to tell you how to learn English through story. One of the common ways to learn English is to constantly repeat words with their meanings and see their use in sentences and stories. however, we discussed 6 golden techniques for learning English vocabulary in another article. For this reason, in this article, we will introduce you to the correct method of learning English through reading story and to an application to get acquainted with the use of words in different sentences and stories, and to understand the multiplier effect of this method in your learning process. You have to bear in mind that you need to have an English vocabulary notebook to boost the effectiveness of your time and energy.
How does reading a story help learn English?

Step 1: General theme
When you start reading a storybook, in the first step you try to understand the general theme of the story.
This is where your comprehension comes into play. No matter what words you know or not; it's best to try to get the general idea of a passage using the meaning of other sentences and words. In addition, you will become familiar with the grammatical structure of new sentences and the use of words.
You may have read these rules before, but here you will see how to use them in practice.
Step 2: Start at level and go up
By reading each storybook at the elementary level, you will generally learn about 300 to 500 new English words. This number will be between 1,200 and 2,300 and about 3,000 new English words in each story at the intermediate level and the advanced level respectively. Thus, you will increase your vocabulary knowledge.
Step 3: Listen and read
If the book you are reading also has an audio file, be sure to use it. Listening to the audio file at the same time as reading it on the text of the book will make you more familiar with pronunciation and accents.
Step 4: Make use of audio files
More importantly, it is your listening skills. We suggest that you listen to the audio file of the book separately, apart from reading, after you have got familiar with the concept and words. It can help you improve your listening skills.
Step 5: Retell the story in English
You can even tell the whole story to a friend to enhance your English speaking, the other main language skill. In fact you are trying to convey the subject to your friend with your own sentences. This does not mean to read the story to him/her, but you are remaking the story having read in mind and tell it to a friend in your own words. If the topic is challenging, there will also be an opportunity for discussion and exchange, which can be a great exercise for you.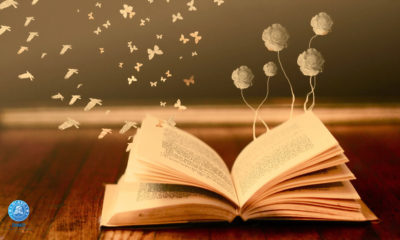 Use English story applications
In this application we have suggested, there are 1000 short English stories with various topics so that you can see the use of words in different fields in the text and remember them easily.
Also, for the convenience of you , the English text is clickable to give you the possibility of googling the words you do not know.
The software has a beautiful and smooth user interface to make the job as easy as possible for you. Click here to download this software.
The abstract of article:
In this article, we discussed how to learn English through storytelling and looked at the importance of learning a language through story.
Related articles: